Ingredients

Shabu Shabu pork meat (thinly sliced loin) 

1 lb

Spring mixed Salad  

1 pack

Rice vinegar

1/2 cups

Extra virgin olive oil

1/3 cups

Salt

1/4 tsp

Oil

1/4 tsp

Ground black pepper

1/4 tsp

Onion

1/2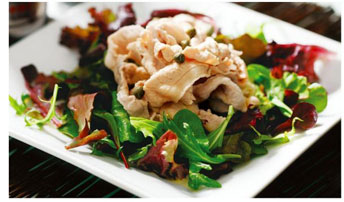 1.       Fill a large bowl with ice and cold water and set aside.

2.       Boil 5 quarts of water in a pot.

3.       Add pork to boiling water.

4.       When the pork is cooked (the pork needs to change color completely), chill the pork in the ice cold water immediately.

5.       Drain the pork

6.       Blend rice cinegar, EVOO,salt and pepper and mix chopped onion with it.

7.       Place cooked pork on top of the spring mixed salad and drizzle the dressing over it.