ingredients

(serves 4)

Shirakiku Soba Noodles (buckwheat noodles)

6 oz.

Shirakiku Soba Noodle Soup

1 c.

Ikura

3 oz.

Spring mix

as a garnish

Dried nori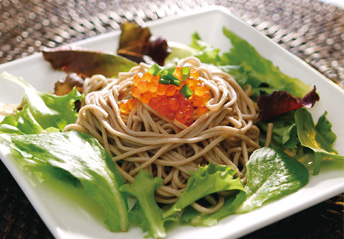 Cook the noodles in salted water according to the

instructions on the package.

Drain and rinse well under cool water.

Place the spring mix on a plate.

Place the noodles on the salad and top with ikura.

Use the soba soup as a dressing.

Sprinkle the nori on top as a garnish.
Do not overcook the soba. Make sure the soba is tender, but still firm.